Maintain A Classy Look That's Budget Friendly With Our Framed Shower Doors
An updated shower enclosure can make an entire bathroom space go from boring to fabulous, and the team at Atlanta Glass LLC is proud to have a vast amount of options for the people of Lawrenceville and beyond so that we can provide the best solutions for individual needs. With those numerous options available, we realize it may be difficult to know where to start. One safe and versatile option would be to have a framed shower door installed to replace a dated shower curtain setup.
If you are looking to potentially upgrade from a shower curtain, a glass framed shower door is a terrific option as they are both cleaner and more visually appealing. Plus, because of the sturdy aluminum frame that goes around the interior edges, they provide an increased level of stability within the space. From determining what options are best suited for your needs to installing the structure in your living or business space, our team of experts can help every step of the way while providing unparalleled levels of service.
Transform your bathroom by contacting Atlanta Glass LLC. Simply text 678-365-1805 with a picture of your existing shower or fill out the short form below to get started today!
We Proudly Serve Lawrenceville, Atlanta, Roswell, Alpharetta, and All of Georgia
Typically, framed shower doors will have thinner glass compared to frameless ones since they do rely on fitting into a metal support frame. This causes them to be more cost effective overall, and also makes them slightly easier to install. With the frame being sealed along the edges, water leakage is usually totally avoided.
You also don't have to settle for limited decor choices. Just because there are frames involved, doesn't mean there aren't numerous options when it comes to style choices of framed shower doors. Functionality can even be chosen as some spaces allow the options of sliding doors vs pivot doors, all while taking into account your interior design theme.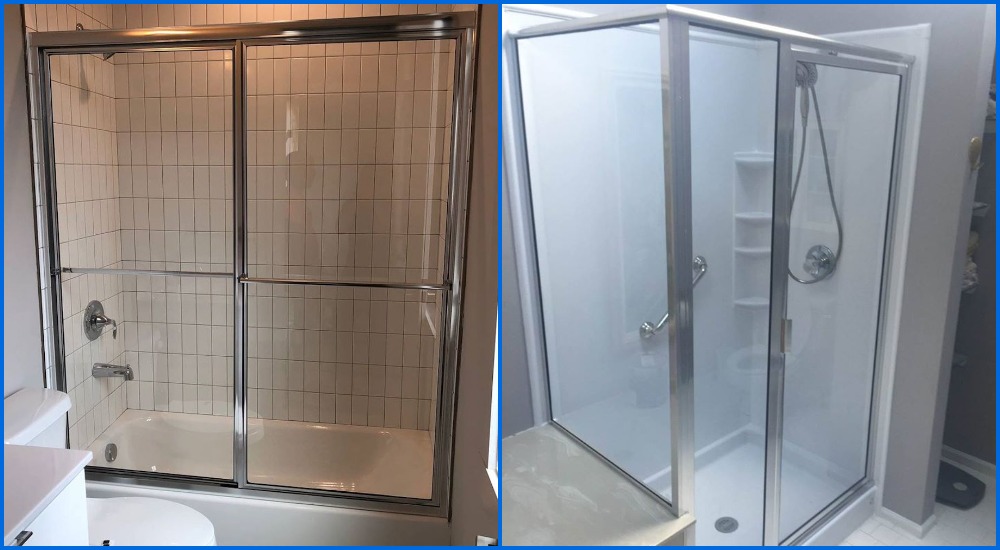 A Framed Shower Door From Atlanta Glass LLC Can Give You:
Safety - Between the frame, the caulking, and the overall watertight design a framed glass door will keep water in the shower and not all over your bathroom floors
Choices - We have many design choices when it comes to these frames, and we can even help create custom ones for your exact needs
Stability - The frames are constructed of aluminum, and the glass is tempered in order to greatly reduce the risk of any potential shattering
Savings - Generally speaking, a framed shower door will cost over ten percent less than a frameless one since it utilizes thinner glass
Update Your Bathroom Today With Trusted Help From Atlanta Glass LLC
We believe our customers should be able to trust the company in charge of their home or commercial improvements, and we gain that level of trust through commitment to customer service. From the initial design to the installation, our experts will travel from Lawrenceville to make sure our customers experience nothing but the best with our services. Contact us today by filling out the short form below, or text 678-365-1805 with a picture of your existing shower for an easy and quick quote!